How to Make Affirmation Work!!!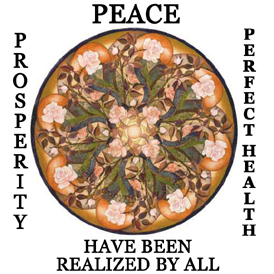 If you had complete confidence that affirmation does work, would you use it to improve your life?
Have you tried affirmation and found it doesn't work consistently for you?
Deep down inside (if not right out front) do you know that you have the power to manifest your greatest dreams and successfully share your unique service with the world?
Would you like to contribute in a profound way to creating individual and world peace, prosperity, and healing?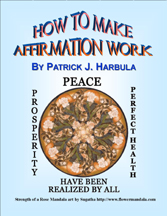 If you answered yes to any of these questions, then you have found the perfect e-book—How to Make Affirmation Work.
Click here for your copy of How to Make Affirmation Work and all the free bonus gifts worth a value of $86.95
(see below).
This revolutionary e-book contains the most concise and easy-to-apply information on how to make affirmation work for you. If you are starting a MAP group or simply doing affirmation on your own, this 38-page e-book offers a concise consolidation of the most important information available on successful affirmation including:
How to make affirmation work for you.
The most common mistake that kills affirmation.
Why it is more effective to read or speak affirmations out loud and in the past or present tense.
The SECRET to successful affirmation that The Secret DOES NOT tell you.
How to combine affirmation with creative action for optimal success.
What it means and how to "live from the energy of the completed vision."
How to clarify and use your life purpose as an affirmation to create vocational ecstasy.
How to manage and utilize the extra energy created from The MAP and not become over-stimulated or out of balance.
What to do if or when you crash—experience disappointment or depression after the initial rush of miracles?
How your participation in The MAP is saving and evolving our planet.
The importance of purification for success in affirmation.
Loving yourself to manifestation.
How to eliminate self-judgment while focusing on the ideal.
Click here for your copy of How to Make Affirmation Work.
"How to Make Affirmation Work is the best e-book I have ever read! Patrick Harbula has crafted a tool that offers the most important information on affirmation in a way that it can be applied simply and immediately."
Marilyn Miller, Author and Career Guidance Counselor
20% of Sales Goes to Charity!
Not only will you receive exactly what you need to succeed at affirmation, but 20% of all proceeds from this reasonably priced tool are donated to specifically chosen charities that are actively creating peace and unity, providing assistance for the needy, and healing our people and our planet. When you purchase this book and encourage others to as well, you are not only participating in a worldwide affirmative intention, but YOU ARE directly contributing to practical action that supports manifesting the affirmation: Peace, Prosperity, and Perfect Health have been realized by all.
"I had been practicing affirmations for years with some minor success. I thought it just didn't work for me, but after reading How to Make Affirmation Work, I realized that I was missing some important understanding, and since then I have doubled my income in about four months, I am healthier than ever, and I found the love of my life! This book is worth about 1000 times the cost!"
Jason Richards, Massage Therapist
"I totally appreciate Patrick's messages about the importance of taking authentic action, and all the other simple but finer points about how to make it work. And most importantly that it IS an inside job. I love where he says that it is not our responsibility to know "where, how, or even if" our affirmation will manifest, but simply to know, feel, and trust. I have a deep feeling of inner peace, acceptance, and prosperity now, and I see my outer world shifting to match the inner transformation."
Mary Johns, Social Worker
To purchase all of the information contained in this concise presentation, you would have to go out and spend 100s of dollars on a variety of self-help books. This book consolidates the most important information you need in a concise 38-page e-book.
How to Make Affirmation Work only costs $28 and as a special introductory offer (this truly is for a limited time) we are cutting the price more than in half at $12, and remember that 20% of all purchases will go directly to charities that are doing practical work to increase the experience of peace, prosperity, and perfect health for the people of our world. Please don't delay to receive this special offer. It may be gone tomorrow!
Click here for your copy of How to Make Affirmation Work.
"This was my first time using affirmations and it worked like a charm. I was lost and now I have a clear vision for my life. I have manifested a number of wonderful relationships, my body is healthy and strong after a long time of having no energy and symptoms of chronic fatigue, and I have more joy in my life than ever. After using the information in How to Make Affirmation Work, I went out and bought two other books on the same subject. I gave up reading them both, because they were so unnecessarily complex. As it turned out, everything I needed to know was in Patrick's book! Don't waste your money on anything else."
Lisa Gonzales, Secretary
If you order right now, in addition to How to Make Affirmation Work, you will also receive the following bonuses worth $86.95 for a total value of $110.95 FOR JUST A $12 COST!
---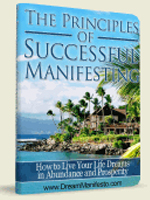 $24.95 value–Principles of Successful Manifestation from Dream Manifesto, 65-page e-book.
This amazing e-book explores:
* The Source of Your Happiness * Finding Your Strength & Talents * Exploring Your Attention * The Power of Your Imagination
* Understanding Beliefs & Concepts * How to Make The Quantum Shift * Using the Law of Attraction * Discover The Power of Intention * and many more topics…
---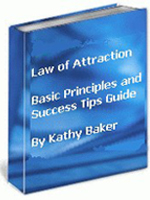 $27.00 value–Law of Attraction: Basic Principles and Success Tips Guide by my new friend from Australia, Kathy Baker, 35 page e-book.
Just Imagine What Your Life Would Be Like if You Could
Discover the Step-by-Step Formula to Getting Exactly What You Want and Desire Now …
Find Out How To: *Manifest what you desire more easily and quickly using the Universal Law of Attraction.* Discover the real Secret to making all your desires and dreams come true. *Achieve more Success than you've ever imagined possible.
---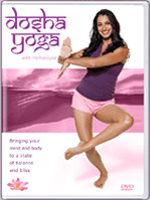 $35.00 value–A six-week course on the Ayurveda, India's 5,000 year+ old system of healing, and understanding your dosha from my good friend and renowned author of What's Your Dosha Baby and Dosha Yoga, Lissa Marie Coffey.
So what is a dosha?
According to Ayurveda, each of us has a unique mix of three mind/body principles which creates our specific mental and physical characteristics. These three principles are called 'doshas'. Most of us have one or two doshas which are most lively in our nature, with the remaining one(s) less significant. In this six-week course, you will learn:
Week 1: Ayurveda and the Elements – what's your dosha?
Week 2: Ayurveda and Digestions- it's not just what you eat, but how you eat it!
Week 3: Ayurveda and Exercise – yoga for the doshas
Week 4: Ayurveda and Meditation – there's no place like om!
Week 5: Ayurveda by the Seasons – as time goes by
Week 6: Ayurveda and Relationships – dosha descriptions
---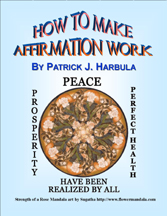 Click here for your copy of How to Make Affirmation Work and all the bonus gifts for a total value of $110.95.
No Risk Guarantee!!!
If you are not fully satisfied with How to Make Affirmation Work, after 90 (we encourage you to practice the principles during this time, and if you do, we know you won't want a refund) days you can receive a full refund (or partial refund leaving the charitable donation in place)—NO QUESTIONS ASKED. And for trying How to Make Affirmation Work, you will be able to keep the bonuses worth $86.95 as our gift.
Click here for your copy of How to Make Affirmation Work.
A Note from the Author:
Dear Seeker of Inner Treasures,I am so pleased you have read this far and are interested in using the power of manifestation to improve the quality of life for yourself, your loved ones, and the planet. It is a true testimony to your positive spirit.
The e-book described on this page is a result of 30 years of practicing the Power of Affirmation and learning, sometimes the hard way, the most effective way to use this unlimited treasure buried in each one of us.
In addition to all the great reasons listed above to purchase this e-book, there is one other: Your purchase will help me in my efforts to make a profound difference in the world with teachings on the subjects of affirmation, living one's passion, and soul power. And I am profoundly grateful for your support of my work.I want to make clear a point that is presented in the e-book. While it is wonderful to have such positive testimonials as those above about the use of How to Make Affirmation Work, it is important to your success to not LOOK FOR RESULTS on the physical plane. Yes, many miracles may occur in your life, but rather than attribute them to the success of The MAP or any process you employ, I encourage you to remember that the results are a product of the shift in your awareness allowing what has always been possible.So in one sense it is great to spread the word about the power of affirmation and The MAP, but it is most powerful when you speak about the INNER changes that have occurred for you. As we change on the inside, the outside will take care of itself. When you walk in joy and beauty, all that you deserve will come to you effortlessly, not necessarily without action of course, but most definitely without struggle.May Peace, Prosperity, and Perfect Health fill your heart each and every day!Patrick J. Harbula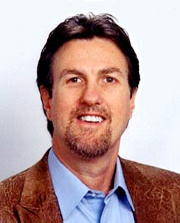 About the Author
Patrick J. Harbula has been a leader and teacher in the human potential movement, meditation trainer, and life coach for over 30 years. He is author of the acclaimed book, The Magic of the Soul: Applying Spiritual Power to Daily Living. Patrick continues to reach hundreds of thousands with his empowering message of soul power and living one's passion through applying life purpose. He appears regularly on international radio and TV. He is Founder/Director of the Living Purpose Institute and President of The Spiritual Unity Movement. He has enjoyed success as a corporate executive for Sage Publications. He has promoted unified world-wide meditation and prayer intention through many past endeavors including Meditation Magazine (of which he was the Founding Executive Editor) and organizing and promoting countless events such as Harmonic Convergence, World Healing Day, Peace Sunday, and many more.
---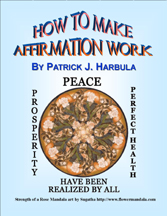 Click here for your copy of How to Make Affirmation Work.
---
For a complimentary life coaching session.
Call: 805-469-9847
Living Purpose Institute
2593 Young Avenue Thousand Oaks, CA 91360