Calendar

PRIMAL FIRE SPIRITUAL AWAKENING RETREAT:
CATALINA ISLAND
Friday May 4th through Sunday May 7th.
$600 includes retreat cost, camping fees, & transportation to and from from island.
$100 early bird discount if reserved by January 28th.
Click here for a printable flyer:
http://livingpurposeinstitute.com/wp-content/uploads/2017/12/primalfirecatalina-1.jpg
PRIMAL FIRE SPIRITUAL AWAKENING RETREAT:
ALBERTA CANADA
Friday August 24th through Sunday August 26th.
Cabine Soleil, 51552 R. R. 212A Sherwood Park, AB T8G 1B1
$550 for camping $600 for Indoor Accomodations
Click here for a printable flyer:
http://livingpurposeinstitute.com/wp-content/uploads/2017/12/primalfirecanada2018.jpg
---
WEDNESDAY NIGHT ALIVE IN SIMI VALLEY
Wednesday Night Alive Service at 7 p.m.
Rev. Patrick J. Harbula normally speaks on the 1st Wednesday of each month.
1756 Erringer Road, Suite 100, 93065. For information: 805-527-0870 or please visit http://cslsimi.org/calendar
EARTH SHIFT CEREMONIAL SWEAT LODGE
Normally every 3rd Saturday of each month (but check the schedule), 7 p.m. March through October (6 p.m. November through February) until it's finished.
Join us for the fun, chanting and sacred purification with Patrick J. Harbula (Ninaa Makoyi–Man Wolf in Picuni), author of "The Magic of the Soul".
This is not a Living Purpose Institute event but sponsored by Patrick Harbula for friends of the sweat lodge.
Space is limited: Call for location and reservations, 805-469-9847. The easiest way to make reservations and check the schedule is to join our Sweat Lodge Meetup group at this link:
http://www.meetup.com/Sweat-Lodge-Shamanic-Studies-Los-Angeles-Ventura
---
MONTHLY FULL MOON WORLD HEALING CEREMONIES
Near the time of the full moon each month (click on the link below for this month's ceremony information). Presented by Spiritual Unity Movement at The Onion Historical Landmark (Unitarian Church), 9550 Haskell Blvd. 1/2 mile North of Nordoff just West of the 405 freeway in North Hills (formerly Sepulveda).
Suggested donation of $10, but donations of any size are welcome.
For more information  visit:
www.spiritualunitymovement.org.
---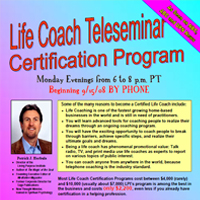 PERSONALIZED LIFE COACHING TELESEMINAR PROGRAM
Become a Certified Life Coach from your own home with a flexible schedule and affordable price with one-on-one sessions with Master Coach, Patrick J. Harbula
Living Purpose Institute through teleseminar
Facilitator: Patrick J. Harbula,
Click on the link for more information on the Life Coaching Certification Teleconference Program.
For a beautiful printable flyer on this program,
http://www.livingpurposeinsitute.com/telecert.pdf.
Click Here to register online.
---
CENTER FOR SPIRITUAL LIVING, SIMI VALLEY WITH REV. STEPHEN RAMBO
Sunday 10 a.m. meditation service and 10:30 a.m. regular service.
Wednesday Night Alive Service at 7 p.m.
FREE YOGA CLASSES Wednesdays and Fridays from 5:30 to 6:30 p.m.
1756 Erringer Road, Suite 100, 93065. For information please call: 805-527-0870 or please visit: http://cslsimi.org/calendar
---
For a complimentary life coaching session.
Call: 805-469-9847
Living Purpose Institute
2593 Young Avenue Thousand Oaks, CA 91360