The Magic of the Soul: Applying Spiritual Power to Daily Living
Below are some excerpts from The Magic of the Soul: Applying Spiritual Power to Daily Living that you may sample. You will need Adobe Acrobat Reader, which is probably already on your computer, to view these files. If you do not have Adobe Acrobat Reader, it can be easily downloaded from www.adobe.com.
Please click on the link for information on The Magic of the Soul New Thought Curriculum, which is free to accredited teaching organizations and on this link for Patrick Harbula's New Thought Speaking services.
The Magic of the Soul: Applying Spiritual Power to Daily Living is a new book by Patrick Harbula written to help integrate spiritual strength and clarity into everyday living. This book magically changes peoples lives. The message proposes that there is spiritual power available in every moment.
Regardless of prospective faith or background, that power can be accessed to create greater peace, fulfillment, and meaning in one's life. In an exciting narrative that includes the author's personal accounts of financial success, healing from chronic illness, and spiritual transformation, the treatise guides the reader to self-empowerment through meditation, visualization techniques, mental mastery, emotional healing, and clarification of life purpose.
The 224-page, 6-by-9 paperback is more user friendly than most in this genre. It presents helpful statements of encouragement throughout the text that are centered and highlighted, and it feels as though the author is speaking directly to the reader. The philosophy is explained in simple and practical language. The accompanying 80-minute audio CD contains meditations (accented by soothing, original background music) that guide the listener through many of the exercises provided in the text.
All of us have experienced peak moments when we were at our highest levels of understanding, compassion, and mastery. The trick can be learning how to expand and reinforce these experiences through everyday living. How does one recognize and act as a custodian of spiritual force when one is presented with stress, frustration, and even tragedy?
The Magic of the Soul suggests recognizing that spiritual force, the magic in each individual's soul, is present and active in every experience. Through daily practice, people can dramatically change how they respond to life's challenges and infuse the direction of their lives with greater peace, fulfillment, and meaning. But the book is merely a guide to experience the true power that lies within your own soul. You are the magic of the soul.
You are the magic!
To order the The Magic of the Soul book and accompanying 80-minute audio CD (of guided meditations) by credit card, call toll free 866-204-2261 or click here to order online.
Or send $18.95 plus $1.36 tax (for CA deliveries only) plus $2.00 shipping (Shipping is free for orders of five or more books.) to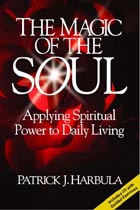 For a complimentary life coaching session.
Call: 805-469-9847
Living Purpose Institute
2593 Young Avenue Thousand Oaks, CA 91360